This is amazing.
A mainstream media personality – Tucker Carlson – actually tells the truth about what is going on about COVID-19 and the deceitful lockdowns, and all the lies the politicians and Bill Gates-funded civil servants and health officials have been telling about what's been going on the last 4 months.
Every time I put more of the Rav's prayers up, or get more of his teachings out there, I immediately notice that the 'world of lies' get's a big puncture.
Of course, we aren't at the knock out punch just yet…. but it's definitely starting to teeter-totter. With people like Tucker Carlson calling it out in the USA, and even in Israel, where the media functions directly as a (paid….) add-on for the government propaganda machine, we are starting to see articles like this, on ynet:
Opinion: Investigation of factual data from around the world and mathematical projections show the government assertion that it saved us from a terrible plague is nothing more than illusion
==
While over on the awful Jpost, every propaganda piece they try to turn out now about COVID-19 blowing up 'exponentially', and 'second waves', and how infectious, and deadly it all is, and how very important it is to wear facemasks 24/7 blah blah blah – is being met by literally hundreds of comments from people openly accusing them of lying, fearmongering and spreading propaganda.
Just take a look at this screenshot, from THIS article:
====
While we're on the topic of the Jpost, they keep changing the posts as they go along, and also adding and deleting comments, and fiddling with the content to try to keep ahead of all the criticism they are getting.
For example, this article was originally called:
https://www.jpost.com/israel-news/coronavirus-outbreak-11-employees-of-sourasky-medical-center-infected-631631
But now, they've 'updated' the headline to this far more scary sounding bit of fearmongering propaganda:
'Gov't failing to stop second wave of coronavirus'
Bill Gates!!! Cut the JPost another big cheque, they are doing a FABULOUS job of churning out non-stop propaganda to soften the public up for your mandatory vaccines!
To be clear, 300 people with an average age of 102 died in the first wave in Israel, over 4 months. (Remember, 131 people die in Israel EVERY SINGLE DAY, on average.)
So if the 'second wave' is as 'bad' as the first well, ahem, I think we'll all just take our chances.
And btw, most people aren't wearing masks properly, if at all, social distancing has almost NEVER happened anywhere in Israel (except down by the Kotel, where for a time it was being rigorously enforced by the local kappos) – so any infection that was going to happen, happened many weeks ago, already.
This new 'spike' is just because they started testing thousands and thousands of extra people.
And everyone knows it.
====
So now, over to Tucker to tell it how it is in the USA:
(Not 100% shmirat eynayim friendly)
====
The Rav said many years ago that they would have to tell more and more lies, until they couldn't tell any more, before the world of truth could finally begin.
I think we're almost there.
====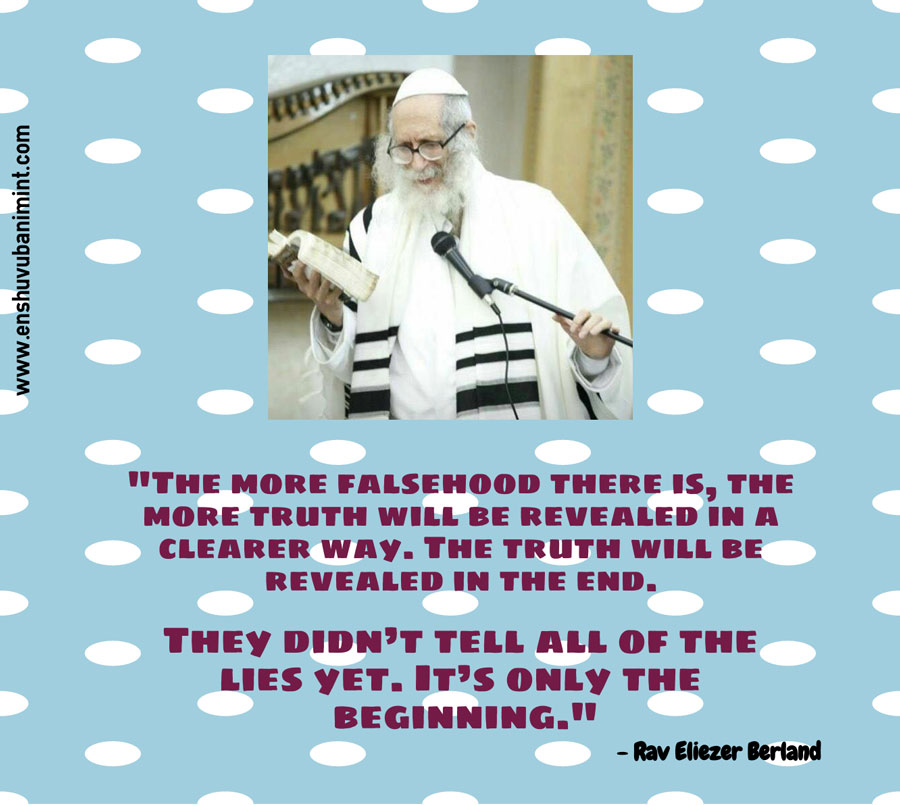 https://rivkalevy.com/wp-content/uploads/2020/06/united-nations-covid-19-response-nZnqu-1eXiw-unsplash.jpg
1639
1159
Rivka Levy
/wp-content/uploads/2019/04/rivka-1-2.png
Rivka Levy
2020-06-17 16:59:02
2020-06-17 16:59:02
How a 'health emergency' was used to subvert democracy